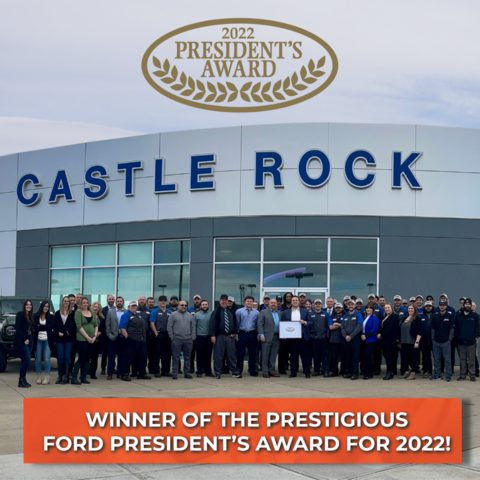 Castle Rock Ford Wins Prestigious President's Award for Exceptional Customer Service
Castle Rock Ford is a proud recipient of the 2022 Ford Motor Company President's Award. The President's Award is a tremendous honor. Each year, less than 500 Ford dealers, out of 3000+ in the country, are recognized for their excellence in customer service that overperforms customer expectations. As one of Ford's most prestigious awards, it's clear that Castle Rock Ford truly enhances the customer experience above and beyond the competition.
This is the first time that Castle Rock ford has been honored with the award in 38 years of service. "I want to personally thank all of the employees that helped make this happen. Our entire team works hard to provide five-star service to every customer day in and day out. We are excited to continue to do big things in the Castle Rock community and remind people that car buying can be fun," said Jose Medina, Managing Partner at Castle Rock Ford.
Ford Motor Company says, "In order to achieve the President's Award, dealerships must exceed customer expectations every day in every department. The pursuit of excellence requires passion, tenacity, and hard work. The award salutes those top-performing Ford dealerships that embrace these philosophies, achieving among the highest levels of customer satisfaction – in both sales and service – in automotive retailing."
ABOUT CASTLE ROCK FORD
Castle Rock Ford is one of three dealerships that make up the Castle Rock Autoplex in Castle Rock, CO. The other dealerships include Castle Rock Chevrolet Buick GMC, and Castle Rock Chrysler Dodge Jeep Ram. Castle Rock Autoplex is owned and operated by Foundation Automotive Corp., which is a growing international automotive group with 37 stores in Canada and the United States. They are focused on consistently elevating employee and customer experience through trust, transparency and innovation. Find more information on their website https://www.castlerockford.com/ or follow their social media pages for up-to-date events, giveaways, and promotions.
Contacts
Jaclynn Sciberras
[email protected]
403.860.4504