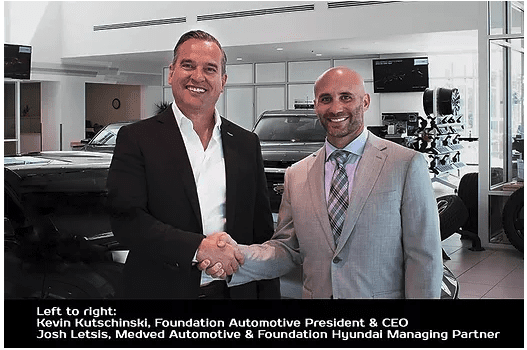 More Choice and Possibility in Colorado as Foundation Automotive's Booming Autoplex Acquires First Hyundai Dealership
Foundation Automotive Corp., a fast growing North-American automotive group, adds the first Hyundai dealership as their 22nd store overall and 7th in the Colorado market.
​​https://www.autonews.com/dealers/canadas-foundation-automotive-acquires-colo-hyundai-store-autonation
​Westminster, Colorado, -Today, Foundation Automotive Corp. is pleased to announce the addition of Foundation Hyundai in Westminster, Colorado. Foundation Hyundai will be the 7th acquisition to the Denver market and will be part of the Medved Autoplex family. Effective immediately, Autonation Hyundai 104 will move to 10450 Federal Blvd, Westminster CO under the new name Foundation Hyundai.
​​​​​​​"Foundation Hyundai will be our 22nd acquisition since September 2018. I'd like to thank Hyundai Motor America and Hyundai Capital America for their true professionalism and support. We're excited about the growth and opportunity and a great future with Hyundai," said Kevin Kutschinski, Chief Executive Officer and President of Foundation Automotive Corp. "We would also like to thank Autonation, particularly their M&A team, for a smooth transaction, true professionalism, and work in a timely fashion. Foundation Automotive is participating in an additional 16-18 acquisitions for 2021."
Arguably the fastest-growing automotive dealership group in North America, Foundation Automotive has an innovative team of professionals from operations, to sales and analytics. "Our core company values are employee satisfaction, strong community involvement, and excellent customer service," said Chuck Kramer, Chief Operating Officer for Foundation. Foundation will continue to give back to Colorado with frequent giveaways to local residents, working with local charities, fundraising, and unrivaled community focus and involvement. Foundation Hyundai will undoubtedly flourish within the Medved Autoplex family under the leadership of Josh Letis, managing partner.
​
"We're excited to be adding the Hyundai brand to our Foundation platform here in Colorado. Foundation entered the Colorado market in August of 2020, every single one of our stores has had incredible year-over-year gains. We currently have the #1 Chevrolet store not only in the state of Colorado, but in the zone," said Josh Letis, managing partner of Medved Autoplex. "We've had our eye on Hyundai as a manufacturer for a while now; and of course we want to add more stores to the Denver market. It also gives our customers one more option to shop so we can keep them in the family. We're excited for this purchase and looking forward to adding to our success in the Colorado market."
​
Foundation Automotive Corp. is a growing international automotive group with stores in Canada and the United States. Their vision is to be the North American benchmark for top-tier automotive solutions and a company of trust, excellence, and innovation for their customers and employees. Find more information on their website www.foundationauto.com.
​
###