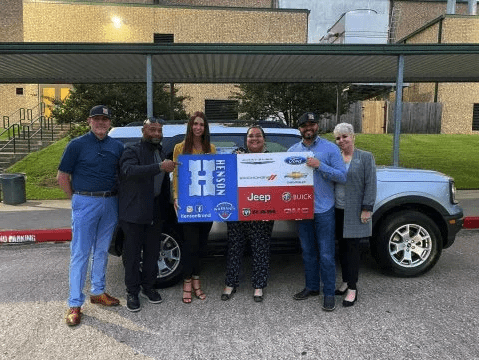 Foundation Automotive's Henson Brand Dealerships Give Back to Teachers in a Big Way
Henson Brand Dealerships in Madisonville TX gives away a brand new car to deserving teacher of the year within the Huntsville ISD school division.
​Madisonville, Texas, May 15- Henson Brand dealerships, part of Foundation Automotive Corp., launched "Henson Hometown Heroes" to give back to local teachers in a time of great challenge and uncertainty. Mrs. Suzanna Salazar, a teacher within Huntsville ISD, was nominated by her colleagues as the lucky recipient of a 2 year lease on a 2021 Ford Bronco. All ISD staff members were also given 3 free oil changes and employee pricing! Henson Brand is known for its monthly giveback giveaways as a way of showing appreciation for their community.
​​​​"It's extremely important that we recognize the people that are building our children's futures and I'm very passionate about this as a father with 6 daughters. If it wasn't for the teachers taking the time to go over and above, we wouldn't be where we are today. Eric and I decided to bring the initiative back in our market area, especially with the added stress of covid this year. It has been a difficult year for them so we felt it was important to engage and celebrate the teachers this year and in the future by giving away a car," said Chuck Kramer, Chief Operating Officer of Foundation Automotive Corp. 
Henson Brand Dealerships has made a name for themselves on social media with their frequent live videos and giveaways with the hashtag #hensonbrand. This Ford Bronco is the 38th vehicle that has been given away in the 2.5 years since Henson joined the Foundation Automotive group. "This is something we've done before that Chuck has instilled in us; I have done this in other stores and organizations as well. The whole basis is to take care of these teachers that, especially after covid, went through a hard year," said Eric Sanchez-Barbosa, managing partner at Henson Brand Dealerships. On top of the car giveaway, all staff within the Huntsville ISD, not just teachers, will be given a card with 3 oil changes and employee pricing perks for new or used vehicles. Additionally, staff members will have access to Henson Ford's mobile service van where the service can be brought right to them! In a time when so much has been taken away, giving back is more important than ever.
Henson Brand has 3 dealership locations with new and used inventory in Madisonville County, TX, centrally located between Houston and Dallas. You can find more information about current promotions on their website or social media platforms. Follow their Facebook page to enter their ongoing car giveaways each month, and see what else Henson is doing to give back to their community.
###